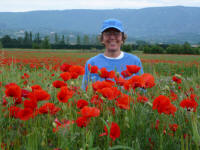 Painting on location, enPleinAir, has become a passion. I like to go places most of us would be afraid to walk. I like quiet places. Places where I can hear my own thoughts.


On location, I immediately respond to the colors around me, the sun reflecting off the grass, the time of day, the temperature, the breeze, the sounds of nature, and my own emotions… all of it.
I think all of these make a painting fresh, vivid, and full of color. I try to capture the essence and the light of the place that first inspired me.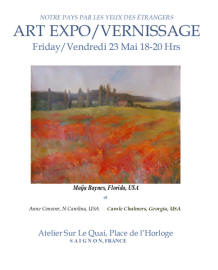 In May 2008, I was invited to participate, to show and exhibit my work in the town of Saignon, which is in the Luberon Region of Provence, in the South of France.

I was fortunate enough to be able to go, and also paint for a period of almost 2 weeks. The weather was incredible. The colors were brilliant. The people of this region were absolutely charming.


At the end of this time, I exhibited the paintings I had done of their local region. It was all very exciting.

Notre pays par les yeux des étrangers




The name of the exhibit, translated, was
"Our land in the eyes of a Tourist"

My painting on the gallery poster