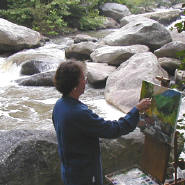 IMPRESSIONISTIC PAINTING with a contemporary feel is a good way to describe my style of work.
My interest in painting landscapes comes from the sheer beauty of my surroundings. I have a real love for my environment. I am a "tree hugger". I started painting professionally in 1979. When I paint, my biggest challenge is to satisfy myself.
Back in my studio, I use my PleinAir paintings as a starting point for larger studio work. These larger paintings are also influenced by memories of a place I have been, or an experience I have had. Through my paintings, I hope I can share this experience.